July 14th, 2013
You are invited to attend my solo show....

ART FROM THE GARDEN
BY THE MASTER GARDENER ARTIST SANDY COLLIER


July 2 -30, 2013, (Closed July 4th)
Monday through Friday, 9am - 4pm (Closed Weekends)
In the Lobby/Gallery of the Agri-Civic Center 26032 Newt Road Albemarle, NC 28001 (704-986-3666)

Ten more of my watercolors will be on display at Falling Rivers Art Gallery during July
Uptown Albemarle, 119 W. Main Street Albemarle, NC 28001 (704-983-4278)
Open Tuesday through Friday, 10am to 4pm
July 5th, 2012
This was the wonderful e-mail I received this morning! Please visit my web site to view Spring Bouquet. The news has certainly made my week. Sandy


Anne Kitzman
Posted Today at 02:03 PM
CONGRATULATIONS, your art piece was chosen to be featured in our art blog and voted FIRST PLACE WINNER by private jury in the contest Hydrangeas in Blooming Color! Your work is featured in this art blog:

April 4th, 2012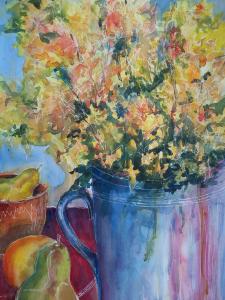 With the arrival of spring weather and the forsythias bursting into bloom, "Pears and Petals" is being released to Fine Art America. This bright and sunny picture was painted using a new (to me) technique. A thin line of resist outlines and provides texture within the painting. This would make a wonderful piece of artwork for your walls. Thank you to everyone for your continued encouragement and support!
December 7th, 2011
"It's Raining Garlic" is a new watercolor just released on my Fine Art web site. This colorful watercolor was recently on display at the Old Historic Courthouse Theater in Concord, NC, and at Mint Hill Arts Gallery in Mint Hill, NC.

It was fun painting the background, then removing the friskit to paint the garlic, using glazing and wet-on-wet technique. A dear painting friend, Mary, came up with the title!

Prints off this newest watercolor may be ordered from www.Sandy-Collier.artistwebsites.com.
November 16th, 2011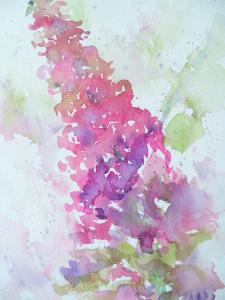 The new show "Holiday Miniatures" opens at Mint Hill Gallery today, November 11, 2011. Harrisburg watercolor artist Sandy Collier, has seven miniature works on display and for sale in this current show. There are over 200 works of art, by local artists, in exhibit, for sale as wonderful holiday gifts. More works of art are featured in their gift shop where Sandy also sells her original beaded designed Kumi Himo jewelry. The opening reception is tonight November 11, 2011, from 7p.m.to 9p.m. Wine and appetizers will be served. Mint Hill Arts Gallery is located in Mint Hill, NC at 7714 Mathews - Mint Hill Rd. The gallery is open Tuesday through Saturday 10 - 3.
November 15th, 2011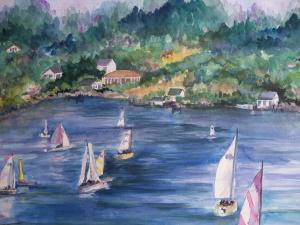 One of my new paintings, "Saturday Afternoon", is being released on Fine Art America. It has recently been in three shows, including the "Water" show at Mint Hill Arts, in Mint Hill, NC. Inspiration for this picture has been several sailing trips on bright, beautiful days, where the sailboats are out in the water in numbers..... Viewers tell me this is a very peaceful work which they study closely, to find the details.
October 10th, 2011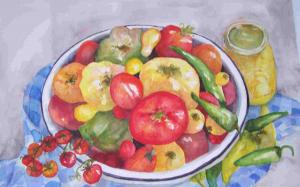 Watercolor Artist Sandy Collier In Food Show

Harrisburg, NC - October 10th, 2011

Watercolor Artist Sandy Collier, from Harrisburg, NC, will be exhibiting five colorful paintings at Mint Hill Arts "You ART What You Eat" show. The "food" show opens Friday, October 14, 2011, with the opening reception from 7 - 9pm, at 7714 Matthews - Mint Hill Rd., in Mint Hill, NC. Sandy is showing three new paintings for the first time, "Its Raining Garlic," "Pears and Petals," and "Cherries on Stage." The reception will offer a host of surprises centered around "food." The show runs until November 2, 2011. The gallery is open 10am - 3pm, Tuesday through Saturday.